As we enter Passover, the holiday of spring and liberation on the Jewish calendar, we wanted to share some of our thoughts.

Spring is the time of year when we go outside and see the flowers bloom. Passover on the Jewish calendar is the holiday of freedom and is often spent with friends and family. As a result of what has been going on in the world with COVID-19, the Israeli government has decided to implement a full lock-down over the weekend which will confine people to their homes during Passover Seder night in order to reduce the continued spread of COVID-19.
Founders and investors have been really focused since COVID-19 started trying to stay busy during these crazy times. We want to share the idea of taking time to practice something we have broken down into three words — Passover. Pause. Pray.
🌺 Passover.
In his book "Discipline equals freedom", Jocko Willink talks about the connection between discipline and freedom, and some of the mental and physical disciplines he practices.
When interviewed by Forbes in 2017 Jocko was asked, "What is the connection between discipline and freedom"?
His response was, "While Discipline and Freedom seem like they sit on opposite sides of the spectrum, they are actually very connected. Freedom is what everyone wants — to be able to act and live with freedom. But the only way to get to a place of freedom is through discipline".
May we all take the time during Passover to remember the freedom that was given to us within the discipline of what it means to be Jewish (or the faith of your home).
And to those of us who often feel swamped with tasks in our work — let's make sure to discipline ourselves by distancing from those daily tasks and taking the time to look inward, spend time reflecting on why we do what we do and who we are doing it for.
- For the full interview with Jocko Willink.

🧘🏽Pause.
We all often forget to PAUSE.
Bill Gates would take one week, two times a year, and escape by himself to a secret clapboard cabin somewhere in a cedar forest in the Pacific Northwest. It was what he called his "Think Week". ... Work done during one Think Week eventually led Microsoft to launch Internet Explorer in 1995.
Make sure to pause during this time of year, especially amidst the current climate.— who knows what will come out of your pause?!
More on Bill Gate's "think week" can be found here.
🙏🏻 Pray.
Let's take the time to pray for a better and healthier world. There are specific reasons why this worldwide virus started. We would like to look at this as an opportunity for us all to look inward and enter the Jewish holiday of Passover in prayer for those who are in need, for those who are alone, and to coming out of this pandemic healthier than before.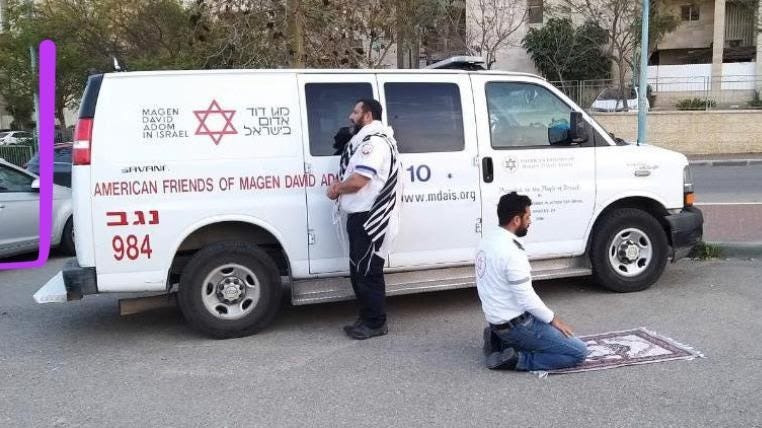 A photograph of two Israeli medics - one Muslim and one Jewish - praying during a break in their shift.
Avraham Mintz and Zoher Abu Jama, who are both paramedics with the emergency service Magen David Adom (MDA) in the city of Be'er Sheva, stopped after attending to a 41-year-old woman with breathing problems, to pray, facing in opposite directions towards Jerusalem and Mecca.
A colleague took a photo of Mr Mintz in his prayer shawl and Mr Jama kneeling on his prayer mat that went viral.